Auto Shipping
Sunday, 03 April 2011 23:49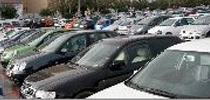 CSI Logistics provides International shipping of automobiles from any location in the United States to any worldwide destination. We can pick up your vehicle at your door and deliver it to your port of preference. At CSI Logistics we offer both Roll on Roll Off and Full Containers service, as well as export customs clearance.
CSI developed an innovative technique for vehicle loading in Full Container Loads (FCL). This technique is based on building wooden ramps inside of 40-Feet standard and high-cube containers. The standard 40-foot high containers ensures that all automobiles will fit including, trucks, cars, show cars, vans, campers; etc. Our technique insures that the automobiles will remain in the same condition throughout the duration of the journey. The automobiles are secured within the container.
Our team of experts reinforces the ramps with premium lumber, metal chains and straps. This innovative technique assures the safety of your vehicles during the transportation process. There is no need for you to drive your vehicle to our location; we can pick it up right out of your driveway, warehouse, garage, etc. CSI is experienced in transporting automobiles and offers options onto how the customer may transfer the automobile. Prized possessions or show cars can be classified as a Full Container Load and customers will be allowed to inspect the container right before it is sealed. The convenience of Roll-on Roll-Off shipping allows for the automobiles to be rolled into a floating warehouse/ship, which will transport the automobiles. Each automobile will be given a spot and will be recorded and sorted into different sections of the lot on-board. Then when the destination is reached the automobile is simply rolled off and ready for use. This takes away the steps of lifting off a container with a crane and allows for a classification of the automobile.
Contact us for further information about our services.
Last Updated ( Tuesday, 15 July 2014 13:37 )