Inland Transportation
Sunday, 03 April 2011 23:49
CSI Inland Transportation Division offers pickup and delivery services of any cargo, including automobiles from any location in the United States to all East Coast Ports, West Coast Ports and Gulf Ports.
CSI gives incredible service shipping to ports. Unlike other Shipping companies that limit their services to the ports around the world, we will transport your cargo from your front door to your port of destination. This allows for higher customer satisfaction because the customer does not have to deal with any other company besides CSI.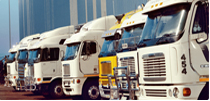 By keeping the inland transportation process overseen by CSI, there will be no confusion of who is handling the customers' product during the time that it is being transported. The risk of losing cargo is something that is minimized by keeping the entire route of transportation centralized. The responsibility of transporting our customers' cargo is ours and we are proud to say that we will take care of our customers' products the entire way through.
Inland transportation is made easy with CSI and the hassle of coordinating routes and companies along the journey of containers is a thing of the past. Allow CSI to do the planning and come up with options for customers to choose from. We recognize that customers choose CSI because responsibilities and problems are solved using our process. Customers input is encouraged and recognized, holding customers concerns higher than anything else. CSI uses its workforce and equipment to ensure that cargo will be safely transferred to the ports. Customers are assured that their cargo will be taken care of, and coordinated entirely by CSI. Each container will be placed on the necessary transportation device that is required to transport inland from the West Coast, East Coast, and Gulf Coast; throughout the United States. Customers from out of the United States that would like to do business please contact us and see what we are capable of doing. We will work with each customer and guarantee their satisfaction through our services.
Contact us to obtain very competitive rates for any pickup, or delivery of your cargo.
Last Updated ( Tuesday, 15 July 2014 14:06 )