Roll-On Roll-Off Services
Sunday, 03 April 2011 23:49
RORO shipping is one of our areas of expertise. It is the most cost effective way to transport automobiles, trucks, buses, boats, trailers, heavy machinery and other, where the cargo can be driven into special ships and driven off at the port of destination.
RORO shipping vessels are specially designed to take care of everything needed when shipping an automobile. Our parking garage on the sea is easy to use and efficient. The vessel is equipped with ramps to roll the automobile directly on and directly off of the vessel. CSI offers a RORO Division that can ship cars, trucks, buses, boats, trailers and such from any location in the United States to any worldwide destination.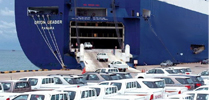 By cutting out the necessity of cranes and lifts, the price is simpler and more effective when shipping the automobiles or anything on wheels. With RORO shipping being CSI's specialty, customers can trust that all of the automobiles will be taken care of in the same manner, whether a fancy sports car, or a work truck that needs to be transported. There is no difference when CSI books the cargo. Each piece is rolled onto the ship, given a safe and secure space to stay throughout the duration of the trip and then rolled off in the same manner with the same expertise. No matter what the automobile may be, Carlo Shipping Int. has technicians who are educated and experienced to handle the automobile.
As many automobiles as a customer needs to be transported are as many as CSI will book. CSI will work closely with customers to ensure that the customer understands the processes and precautionary steps that will be taken during the loading and unloading of the automobile as well as when the automobile is stationary on the ship.
Water is no longer an obstacle for automobiles since customers can so easily transport their automobiles across water and drive them all over the world. Economic benefits are of course to save the automobile and use the automobile to its full potential.
Contact CSI today to see what we can do for you and we promise you will be completely satisfied with our RORO Shipping Division.
Last Updated ( Tuesday, 15 July 2014 13:55 )